Ragtime Cats was officially founded in 1999.
The Very Beginning: I have always had a love of cats. This was nurtured by my mother, who so graciously took the time and effort to allow me to show my household pets as a child growing up! It was an instant love of mine - and I thank her for all those weekends she gave to me - getting ready for a show - driving hours to the closest shows and spending the weekend showing off our household babies.
After college, I began to express an interest in the breeding and judging aspect of cat shows, and discovered the RagaMuffin breed. I count that day as one of the BEST days in my life! Once a RagaMuffin cat owns you....you will understand just how special that honor really is.
My first kitten was Stradivari of Ragtime, a Blue Lynx Point male, who went on to win National Awards in his first year out.
I soon discovered the amazing wonder of having a RagaMuffin. Until you have one, you just cannot describe just how incredible and wonderful these kitties are. People I know who are not "cat people" love these kitties. That's just how great they are.
Stradivari, affectionately known as Strat, only made a couple shows as a kitten, but still managed to final in the top 20 regionally. He has done incredibly well as a UFO Platinum Grand Champion and has gone on to become a Double Grand Champion in AACE and a Quad Grand Champion in ACFA. You may see more information on him on the "Our Boys" page.
Growing: After Stradivari, I acquired Maria, a Seal Point & White female, as my first breeder. Allegra, a fabulous Tortie & White was the next girl to arrive here.
Where we are going: We remain a in-home cattery, dedicated to selected and planned litters to improve the RagaMuffin breed. We will continue to work to produce show quality kittens and promote the breed. We hope to see you at the next cat show, where you can meet a RagaMuffin in person. We are also strongly committed to maintaining the ORIGINAL RagaMuffins.......NO Siberian cats will be used within any of our lines, nor will we work with any breeders who do.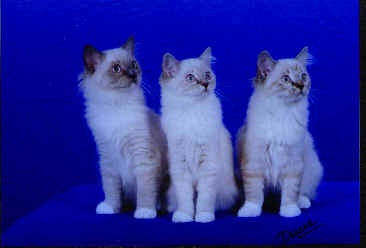 Cosmo, Sonata, & Sparkles
You are visitor number
since September 29, 2001.
This page was last updated on 12/15/08.